Real Gear for Real People
Custom Made Exclusively for the Military, Law Enforcement and Security Agencies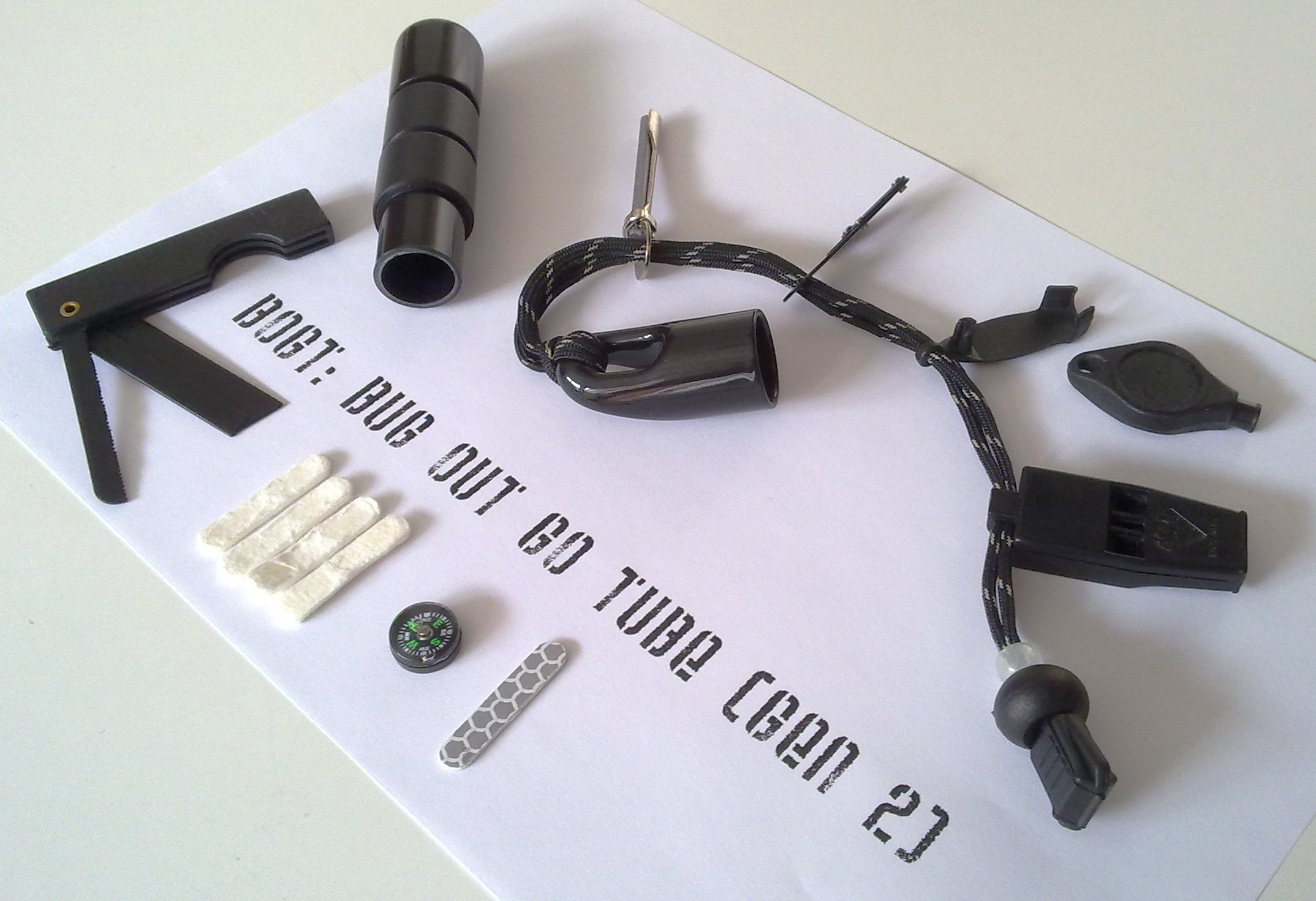 BOGT: Bug Out Go Tube [Gen 2]
The BOGT is designed to be portable and can be conveniently carried, attached nearly anywhere and in any position.

Where you go the BOGT goes...

Combined with the appropriate training this device will aid navigation, signalling, escape, rescue, evasion etc
Designed with consideration for limited SAWC (Space/Size And Weight Constraints) this compact package is suitable for Deep Carry and contains:

1 x BCB 13mm Button Compass
Exceptionally Robust
Compact and Lightweight
Pressurised and Oil Filled
Load Tested to 24g
Military Approved
1 x FRS (Folding Razor Saw)
The FRS was designed for the sole purpose of improvising and adapting to any survival situation.
Only 2.75in long, the FRS cuts on the pull stroke and with 28 teeth per inch it is capable of cutting through many metals.
It takes less than 30 minutes to completely cut through 3/8 inch rebar.
The razor works extremely well for small game skinning, rope and tape cutting and improvising to the given urban survival situation.
Both blades have a protective black coating
Use to strike Ranger Fire Flint
1 x Photon Freedom LED Flashlight Covert (White LED)
Electronic, instant full power On/Off at any time.
Full range brightness control.
4 Safety modes: Slow - Medium - Fast - SOS.
Signal / Morse Code mode.
All it takes is a simple squeeze of the button to give you instant full power illumination at any time.
To dim the light once it is turned on, simply press and hold the button to dim the light to the desired level.
Pressing and holding the button when the light is already off will turn it on at the lowest level
and allow you to gradually increase the brightness to give you just the amount of light you need to
accomplish your task without disturbing your night vision or disrupting those around you
Water Resistant Case: Designed for easy battery changes. THE FREEDOM IS MORE WATER RESISTANT THAN PHOTON 3!!!
When needed, the four safety strobe functions (fast, medium, slow, & SOS) can be accessed by continuing to hold the button down.
Once the light has dimmed or brightened fully, it will proceed to cycle through the various strobe functions.
Simply release the button when you reach the desired beacon mode.
An additional "signaling" mode can be accessed by tapping the button several times in rapid succession.
When in the signaling mode, the Freedom Micro will behave like the squeeze-only Photon I,
with the light turning on only while the button is pressed and off when it is released.
To exit the signaling mode and return the light to normal operation, simply press and hold the button for several seconds until the light turns off.
Visible for more than a mile!
Shines an astonishingly bright beam illuminating any path.
Hides under a quarter and weighs less than 7 grams.
24K Gold Plated Contacts -- Superior corrosion resistance.
Unbreakable LED Bulb. The LED bulb is incredibly tough and is covered under the manufacturer's lifetime guarantee.
Quick Release Ring -- Reliably attaches to gear for quick release.
The replaceable CR2032 Lithium battery will power the red for 120hrs and white led for 12 -14hrs
Spare CR2032 battery cells (not included) can be stored inside the vinyl end cap
1x Mini Signal-Mirror
30 x 10 x 1mm with High Intensity Grade SOLAS Reflective Tape Backing for emergency signalling (day or night)
SOLAS and International Maritime Organization regulation, IMO Res. A.658 (16) and meets U.S. Coast Guard specification 46 CFR Part 164,
Subpart 164.018/5/0. It is approved by numerous national authorities around the globe
Mil-Spec 5040 / GSA Compliant 550 Deep Carry Retention Tether
Choice of different colours
ITW Nexus Cord End
4mm Rope Stopper
GITD (Glow In The Dark) Bead
Black Insulation Tape Wrap
Various uses
Tinder (Compressed sterin and pulp)
Ignite with Ranger Fire Flint
When used replace with Vaseline soaked cotton balls
BCB Ranger Fire Flint
The sparks produced from this compact mini-ferrocerium fire lighting tool
can reach temperatures of around 3,000 Centigrade.
ACME Tornado Whistle
Ultra Compact
Made From Heavy Duty Plastic
Pealess Design - No Moving Parts To Go Wrong
Works In Any Weather Conditions
High Decibel Noise Output
SOLAS Approved for Marine Safety
Lanyard Attachment
Made in England
SERE Black Ops "V" Cutter
The two blades will cuts through webbing, seat-belts, 550 cord, duct tape, plasti-cuffs etc
1 x Go Tube - Deep Carry Concealment Device
Simple Design
Lightweight 22g
Airtight
Waterproof/Mildew-Proof/Sand and Dust-Proof
Silent Operation
100% non-metallic
External Diameter 20mm
Internal Diameter 16mm (5/8 inch)

The total weight of the BOGT (Gen 2) is 66g

There is spare room to hide emergency cash, mini flash-drives and other small tools and items
Sold as standard with a BLACK 3M-TRRS DCRT (Deep Carry Retention Tether); please let us know if you would like a different colour.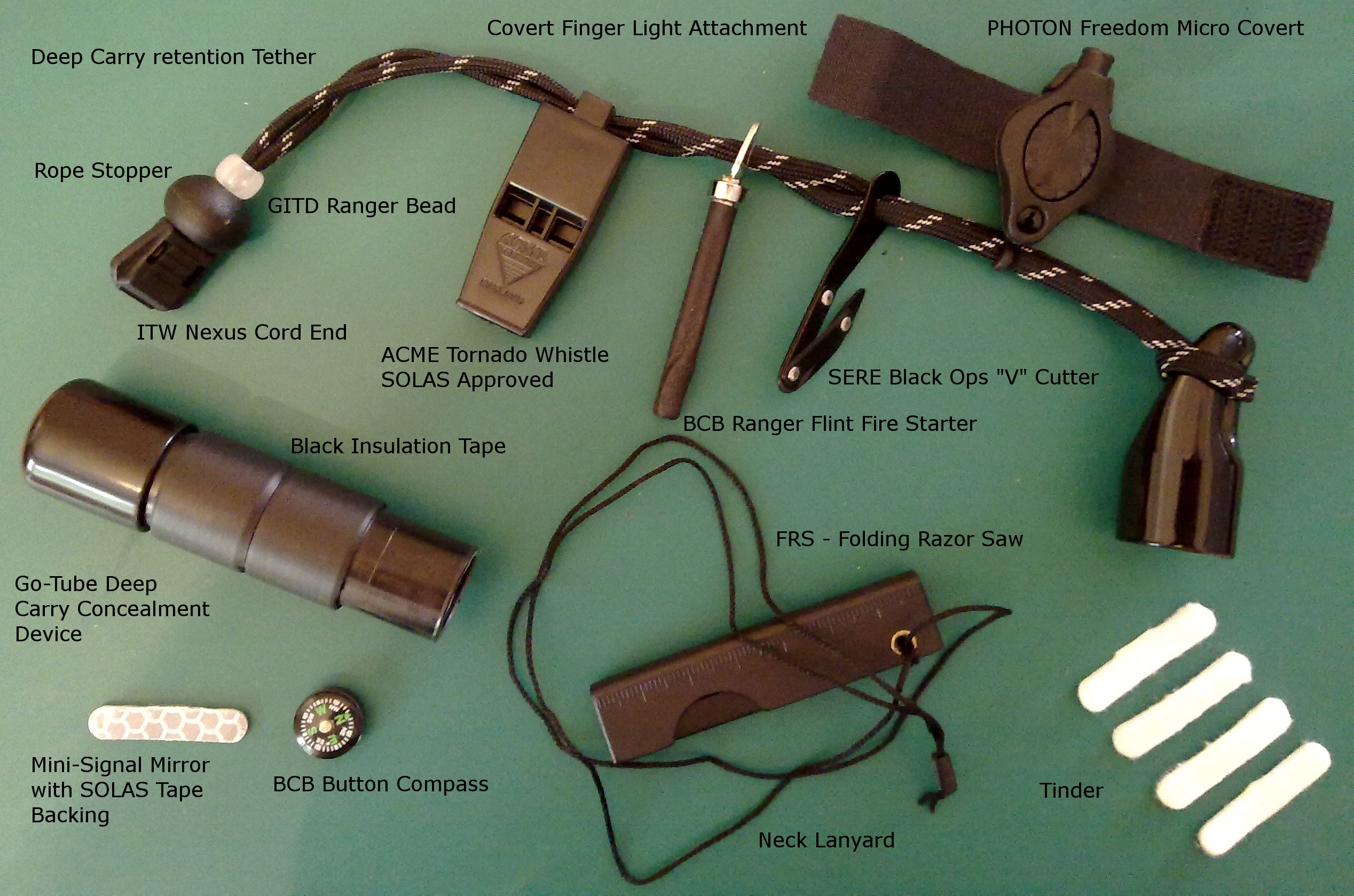 Updated BOGT 2.0 (July 27th 2011) - Click on image to enlarge

Home